Social media services have become essential for businesses to allow them to reach new heights. Now, you can find numerous websites that offer you the best services from industry experts. On the flip side, the number of scam companies that care only about your money and do not offer the service you deserve.
We came across a company, ThunderClap, which is quite popular among business owners and claims to provide the best services in the industry. So, we decided to ask our experts for their opinion on the site after conducting extensive tests. Read on for a detailed ThunderClap Review and learn whether this site will fulfill your social media needs or not.
Overview
Before we start talking about ThunderClap's services in this Review, let us have a look at the company's past activities. One of the top IT companies some years back, This helped users organize large coordinated social media activities to help people reach their social media targets. Not only was the platform intuitive, but it was also affordable and maintained a high level of quality.
But, it was not long before Facebook and Twitter updated their terms of service causing it to shut down. Since then, This company just deals with social media growth and offers tools to help people grow on social media. Overall, we have a negative view of it's current services, which we will discuss further in detail.
How Can I Use ThunderClap?
This website is basically an Instagram bot that allows users to gain likes, views, and followers. But, how do you access these benefits and bring in the growth you need? Follow these steps below and get access and its expert services:-
Go to the official website (

https://thunderclap.it/

) to view the overall services offered by the site. You will also be able to see the various exclusive features to help make your decision.

Select and move to any one of the categories of services offered to view the detailed package list along with their pricing. The service categories available include –

Instagram Views, Followers, Likes, Verification

When you choose either of the Instagram Views, Likes, or Followers categories, you will get a list of the packages under each.

Choose the package that best suits your need before entering your details like Instagram Username and Email. A word of caution to remember is that your account should be public to enable the completion of the package's delivery. Private Instagram accounts will not be able to enjoy these Instagram growth services.

Proceed to Payment to get redirected to the Payment Gateway. You can view the different payment options you can choose such as – Credit Card, UPI ID, Debit Card, PayPal, and much more.
Following these simple steps will take you a step closer to better social media engagement. Features are quite intuitive and allow the user easy access to different social media services. However, it is worth remembering that it might not provide the quality services we need.
Read this before you rush into making a decision and using the site. After all, it is better to be cautious than regret and put yourself in danger. Also, stay tuned to know about the alternatives you can approach for a more tactical approach.
ThunderClap Feature Claims
Our experts noticed that the service does not offer a lot of features that other growth service platforms offer. For example, none of packages mentions the presence of a dedicated social media expert to help you create a customized plan.
Moreover, we found out that it will be beneficial only if you already have an idea of what you need to get better social media growth. Even though it lacks certain features, we decided to give it a fair shot. Some features of the platform that are worth mentioning in this Review of Thunderclap:-
Detailed packages that you can use to buy Instagram followers, likes, or views

Offers package quantities starting from 50 and going up to 10,000 for Instagram Likes

You can buy a minimum of 100 and a maximum of 2500 Instagram followers

Builds Instagram Views packages starting from 500 views and going up to 25,000 views

Allows you to select the service you need and its amount based on your professional needs

The company alleges that it has an Instagram Verification service that can help you get a blue tick on your account in no time

Uses technology to automate the delivery of the service bought, making it seamless

Promises to deliver the service within hours of purchase to help you get closer to your social media success as fast as possible

Offers the user control to set the speed of delivery of their Instagram growth services as per the user's convenience

Highly responsive customer support team that is supposedly available 24/7 for better customer experience
Pros and Cons
Before we dive into offering you alternatives for a better partner in your social media campaign, let us look at some pros and cons that our test revealed about the services. This is essential to the Review to help people decide whether the negatives outweigh the positives or the other way around.
ThunderClap's Pros-
Does not ask for, store, or put your confidential information at risk

Offer detailed pricing lists and descriptions of the services included in each package

Delivers engagement needed through real Instagram accounts

24/7 Customer and Technical Support Team to help you get the best

Automatic delivery and completion of the services ordered without any way to track them as fake

Often provides wholesale and bulk discounts or promotional offers to make social media marketing accessible to all

Rates conform to the industry's standards and are quite low at times
ThunderClap's Cons-
Technically, it is a bot that offers social media services and cannot be customized as per preferences

Zero human interaction throughout the delivery of the service, which can cause confusion

Does not provide engagement through accounts that are from your target audience or belong to your niche

Uses accounts that do not have high engagement rates, causing a decrease in the quality of your social media engagement

Customer Support is accessible only when you have any doubt about package details and not during the delivery process

No mention of the site or its services of online database systems with trusted reviews like Reddit or Trustpilot

The process of refund or free refill of services is quite complicated and there's no surety you'll get your money back in case of mishaps
Alternatives
Now that we have provided a detailed ThunderClap Review, it is up to you to decide whether you will use their services or not. But, we will also provide you with some safe alternatives that are quite acclaimed in the industry and can be useful for forming your social media marketing plans.
So, let's go ahead and find out some of the best companies in the marketing industry.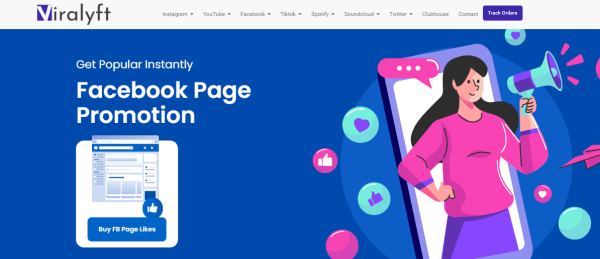 Viralyft is notably the industry's best platform to fulfill your social media needs. Whether you're looking for customized packages or pre-made ones, Viralyft has it all.
You can use the platform to realize growth on all major social media platforms like Facebook and Instagram. If you're looking for experience and quality, Viralyft is the place to be!
---
GetViral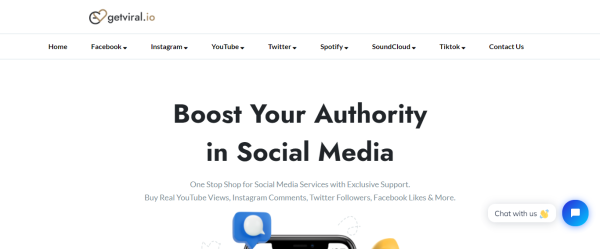 GetViral is another company that employs some of the best social media marketers and software engineers. If you are a tech fanatic, you will love GetViral's services. The site uses state-of-the-art technology to deliver quality services tailored to your needs.
It has also made the process of getting organic traffic much simpler. Thus, GetViral can help you grow quite fast!
Conclusion:
With this ThunderClap Review, it might be very clear that the service is not what it seems. The image of being a top social media service provider in the industry is an illusion. Moreover, general research of the site's review on third-party sites reveals that it is highly problematic.
If you are serious about branding and growing on social media platforms, avoiding it is probably for the best. Neither does the service provide AI growth nor do they offer a customized growth strategy. You will have to understand the basics of social media marketing before using this.
This defeats the purpose of the site and does not boost convenience in any way. So, we recommend you stay away from the site and use its better alternatives to get the growth you need. We hope the article offered a detailed understanding of it to help you make a decision.
If you have ever used this service, let us know in the comments below. Or, let us know about the best platforms offering social media services that you have come across! Help out fellow creators and businesses and get the edge you've been looking for. We also wish you the best in your various social media endeavors for a better overall brand image.